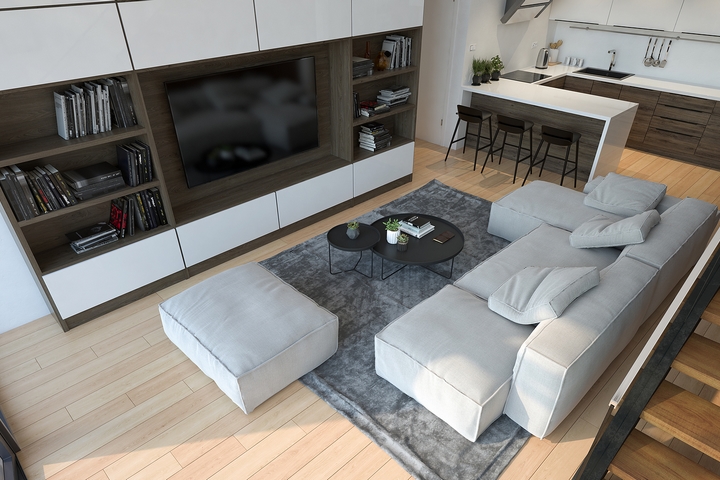 When deciding where to place furniture in a home, homeowners must consider a variety of different points before making the final placement. Things to think about include functionality, the amount of space available to work with, aesthetics, and mood. It can definitely be overwhelming!
Installing a TV in the living room can be extra difficult since so much of the surrounding environment can affect its functionality.
Here are seven living room TV setup ideas for inspiration:
Idea #1: Hanging TV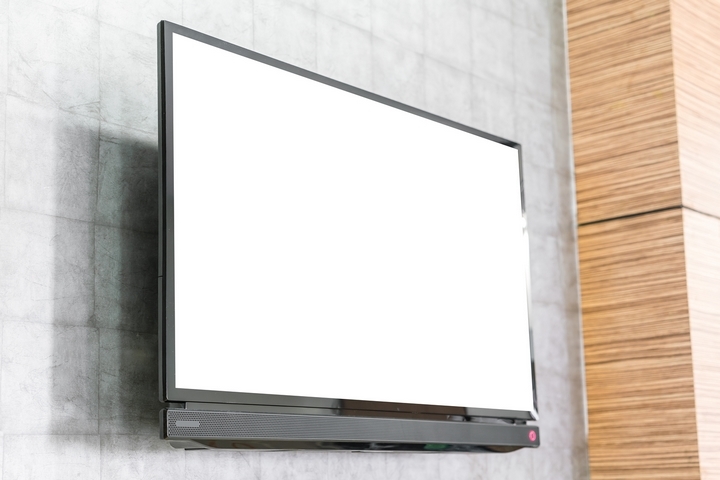 A hanging TV is one of the most popular living room TV setup ideas found in many homes. Now that TVs are much thinner and lighter than they used to be, they can easily be mounted on a wall. This space-saving option allows homeowners to open up their living area and decrease the amount of furniture required in a room – an especially beneficial option in homes where space is limited.
No TV stand or cabinet needed. All you need is an LED TV mount stand to position your television where you want. Often, these wall-mounted screens can be put on an arm that can be used to adjust the positioning of the screen as necessary. The arm allows for adequate versatility and movement of the screen, despite its being attached to the wall.
Idea #2: Combatting the light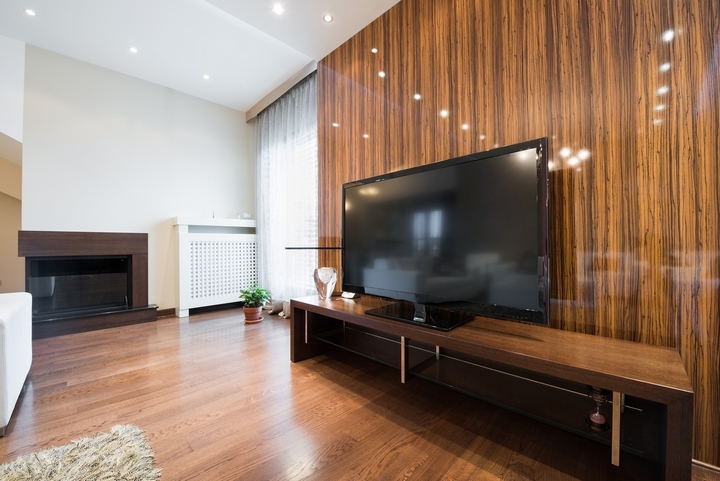 Natural light can make picture visibility difficult. If possible, see about placing the television in a corner or area of the room where natural light doesn't reach. If this isn't possible, opt for some really nice window coverings so that you can block out the light whenever you want to watch a midday show. Ideally, window coverings should be easy to access, open and close, so that it doesn't cause a hassle every time they need to be adjusted.
Idea #3: Use the centre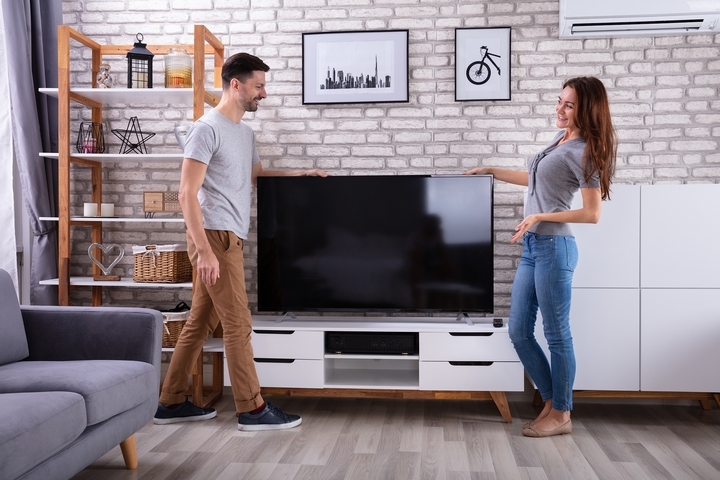 People tend to line the room with furniture by putting the TV against one wall and seating on the other walls. This works in some spaces, but is not always practical, especially when the room acts as a hallway from one end of the house to the other with open doorways on each side.
In cases like these, it can be better for functionality to move the couch into the centre of the room a little, leaving a walkway behind it. This way you don't end up with random TV cords floating around in the middle of the room, and TV watchers aren't interrupted by people walking back and forth.
Idea #4: Split up your space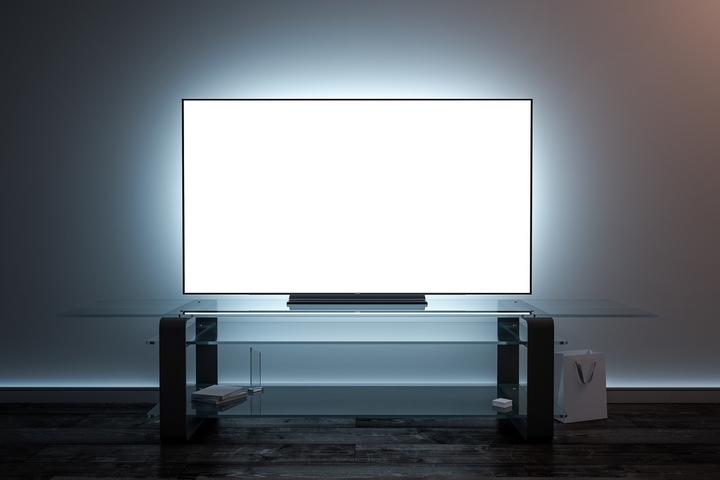 We've talked about some things to do when space is limited, but what if you're contending with a large amount of space? No, the answer is not to buy a movie-theatre sized TV screen and fill the room with seating. Instead, consider making part of the space a TV area, and the other half a sitting area or a tea area, separate from the TV area.
With all that space, you've got a lot of room to play around with the different functions you want your living room to have. Unlike most people who have to make their one small space function in many different ways, a large space can have segments or zones for each unique function.
Idea #5: Embrace the fireplace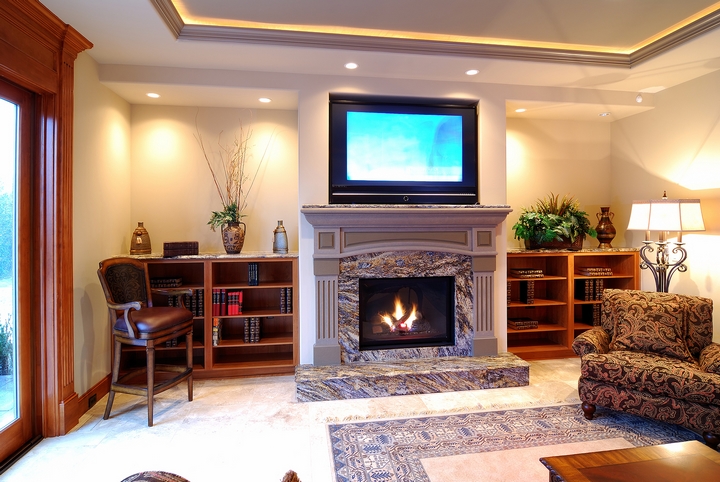 Fireplaces are often considered a real luxury to have in a living room, but can compete against the TV and make it difficult to find a good way to enjoy both. You may be able to mount the TV above the fireplace, but sometimes the mantle is too high, making for difficulty viewing the TV.
In these cases, play around with angles by placing the TV on one side of the fireplace and then tilting the screen slightly toward it. Then, place the couch in front of the fireplace. Now you can lounge on the couch and enjoy both your TV and fireplace at the same time.
Idea #6: Close it up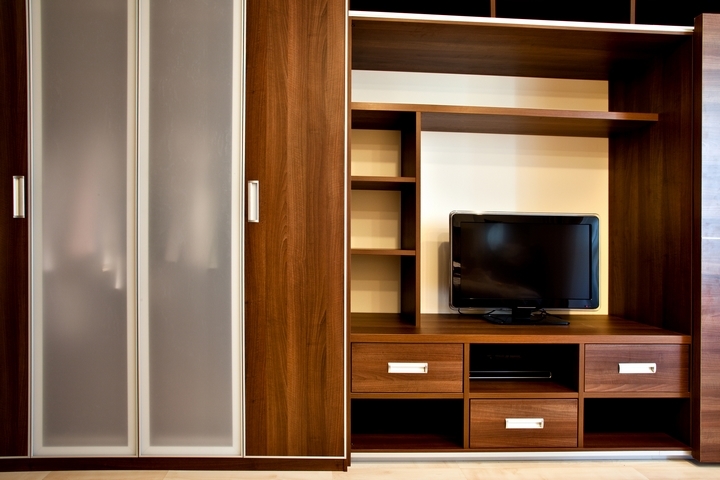 In the Chinese traditional feng shui, it is considered important to cover up the TV, or hide it away in a cabinet, when it's not in use. It is said that the mirrored effect of the blank screen represents clutter and can bring negative energy into the space. It's an interesting concept to be sure, and a good enough reason for some to invest in cabinets to hide their TVs away in.
Even if you're not really interested in creating a feng shui space, placing the TV in a cabinet with doors is a lovely way to hide a piece of equipment that might not exactly go with the style in which you've decorated your space.
Idea #7: Invest in the rest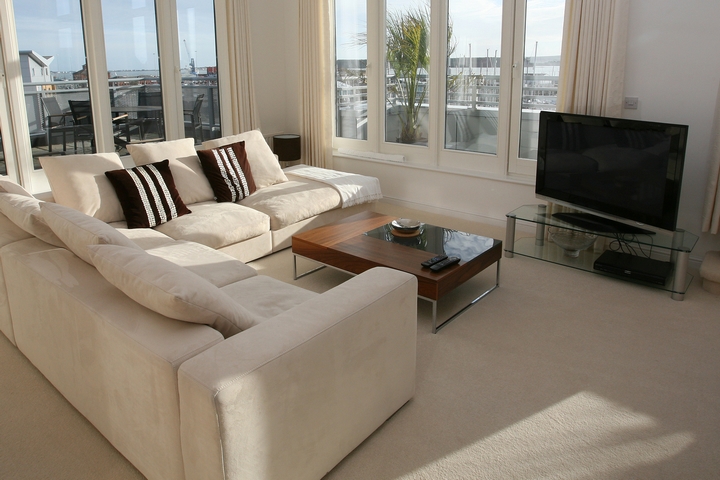 While the placement of the TV is definitely important in your living room, it might be a good idea to invest your time in creating a comfortable and aesthetically pleasing space around the TV. The placement of the TV may just come naturally as the room comes together.
Most importantly, you want to ensure that the space as a whole promotes the type of feeling that makes you want to spend your time there. Add some Abbott home decor to make the room feel warmer and look cozier.